The World Blind Water Speed Record.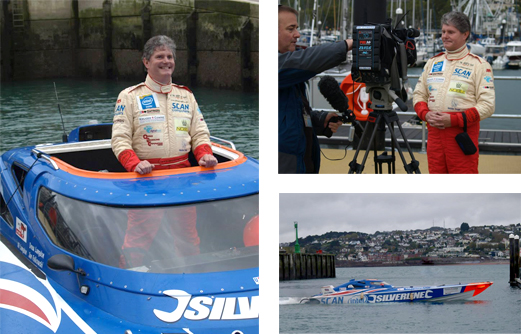 DAREDEVIL Mike Newman has become the fastest blind man on both land and water.
The dad of two broke the blind water speed record with a speed of 93.6mph.
He has topped the previous record of 91mph, driving a powerboat at Torquay Bay.
Mike, 52, set the world blind land speed record in September by driving a Porsche, solo, at 186mph while guided by a navigator over a radio link.
He said: "It's so exciting. I'm so pleased to achieve what I thought I could. When you're in the boat and experience it there's nothing equal to it."
Mike has now become the first person since his hero Donald Campbell to hold land and water speed records simultaneously - and the only blind person ever to do so.
He steered the Formula 1 power boat, called Silverline, while international powerboat ace Drew Langdon manned the throttle and directed him.
The former bank manager now plans to break the air speed record.
He hopes the event will raise awareness of his Speed of Sight charity.
Mike, from Ashton-on-Mersey, Gtr Manchester, added: "I had to concentrate and carefully do what was asked.
"At one point, not only did I have my hand on the wheel, but also the throttle. I was in full charge."
The previous record was held by former soldier Mark Threadgold in 2003.
Mike, who was born blind due to glaucoma,used to be a business manager with Barclays but now runs his Speed of Sight charity full-time.
His charity has designed and built the first of 10 specially-adapted track cars fitted with dual controls, twin steering wheels, hand controls and a hoist to assist people in and out of the car if required.
Further details from www.speedofsight.co.uk
John Galloway Team Principle on 07971 161 621
john@speedofsight.co.uk
www.speedofsight.org

Chris Walker Press on 07768 068 563
chriswalker@freenetname.co.uk




Interested in becoming an offical sponsor? Click here for more details