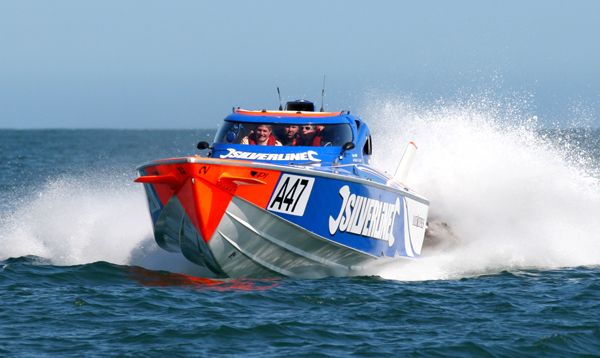 Mike Makes Guinness Blind Water Speed Record Test Run
On Monday, 20th August 2012 at Torbay in Torquay, Mike met up once again with Drew Langdon, offshore powerboat racer and team owner of a Marathon class Fountain, to undertake a test run for the Guinness World Blind Water Speed Record attempt that Mike plans to make later this year
In a sleek "Team Bullet Racing Silverline", twin diesel powerboat, one of Langdon's own fleet, two high-speed runs were achieved at 85 and 90mph. The conditions were excellent and have given Mike and the SoS Team great encouragement for achieving his goal of reaching 100mph.
'It's a great difference between thinking you can achieve something like this and knowing you can. Taking part in this test was a step nearer my dream to be the first blind person to take a boat over 100mph and being out on the sea was one of the most memorable and exciting experiences that I've ever had." said Mike.
It's planned that Mike will achieve the World Blind Water Speed record in another Drew Langdon Silverline powerboat, powered by two V8 950HP engines and the SoS Team is hoping to combine the Guinness World Blind Water Speed Record with another Guinness World Land Speed Record that would make Mike the first blind person to hold both records simultaneously. And, by doing so, being the first blind person to take a powerboat over 100 miles an hour and drive a car, unaccompanied, over 200 miles an hour.
Mike and Drew were set to make a record attempt last year on Lake Coniston during Records Week but could not get RYA (Royal Yachting Association) approval.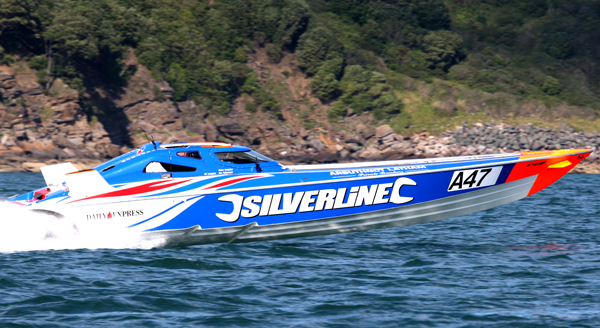 With the Olympic Paralympic Games about to star in the UK, the concept of people with disabilities having access to sport is at the forefront of the public's mind and it is paramount as Mike's motivation to make sports available to as many people as possible regardless of their ability. Mike and the SoS Team have already designed and built the first of ten track cars that will allow people who would never be able to get a license of any sort to experience a motor sport, track event.