Record Achieved! Mike Breaks The 200mph World Blind Land Speed Record
Mike Newman has finally achieved his long standing ambition to become the first blind person in history to drive solo at over 200mph and as such has now amassed his 6th Guinness land speed record, driving a Litchfield LM1 RS reaching an average speed of 200.9mph along the airstrip of Elvington Airfield located in york on the 13th August 2013.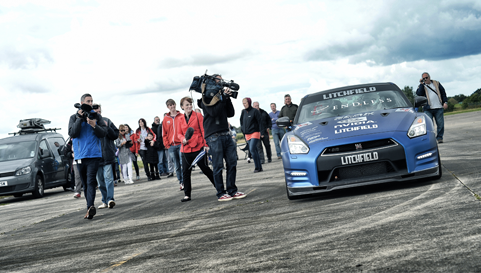 Mike, said "wow this was an amazing experience one I will always cherish, with out the support of my team and sponsors, Scan Computers, Nvidia, Endless, Litchfield, Casio, Datron, Hedcamz, Jigsaw Medical, Bullet Offshore Racing, Kruger Cowne, BDG Automotive and BDG Products this would not have been possible."
The whole experience was made even more special, upon achieving the record to be congratulated in person by Gina Campbell (daughter of the late great Donald Campbell) and her self a record breaker in her own right was amazing.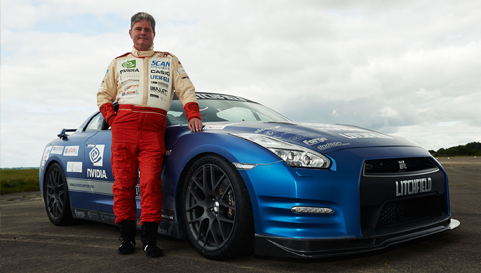 The car is the LM1 RS a Nissan GT R rebuilt by Litchfield of Gloucestershire especially for this Land Speed attempt. Indeed without the kind support of Iain Litchfield and his team these records would not be possible.
Mike explains these record attempts are a great way to bring attention to Speed of Sight's ambition which is to raise public and commercial donations for his charity, Speed Of Sight, with a goal of £3.5 million pounds, to build 20 specially adapted dual controlled track and off road cars and a purpose built center and track on a 33-acre site.
This Speed Of Sight facility is hoped will be located in the New East Manchester area and has the primary aim of being able to provide a unique track and off road experience for people with disabilities along with their friends and families. The facility will also deliver additional programs, supporting collaborative projects between non-profit making organisations, social enterprises, and industry and academic bodies.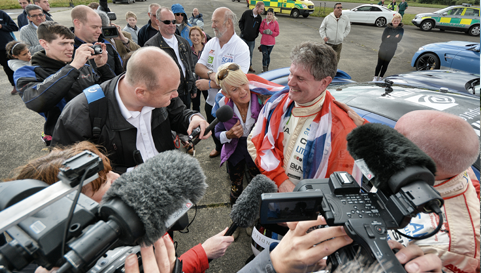 To further raise awareness of the charity, Mike is set to take part in what is going to be his final high speed record attempt later this year, to become the first blind driver on water to pass 100mph. For this record Mike will be driving Drew Langdon's Silverline formula one power boat on the sea's of Exmouth.
Further details from www.speedofsight.org
John Galloway Team Principle on 07971 161 621
john@speedofsight.co.uk
www.speedofsight.org

Chris Walker Press on 07768 068 563
chriswalker@freenetname.co.uk