Blind Legend Takes to the Seas to Chase that Elusive 100mph
With any disability, very often the focus is on what you can't do, rather than, what you can! However just take a look at our Team GB Paralympians and how they are changing the way we view disability.
We wanted to share our exciting news about our superstar Mike Newman who is blind, and also no stranger to breaking down preconceptions,
Mike Newman, blind legend, and the fastest blind man on earth, is currently the holder of multiple Guinness world records for both land and sea, has decided to take to the seas in a bid to achieve his most dangerous challenge to date - to become the first blind person to take an F1 Powerboat at over 100mph.
Mike Newman says he believes in chasing dreams and has always dreamt about breaking the 100mph barrier on water "It has been my goal for a long time. It is also a fantastic opportunity to draw attention to the charity Speed Of Sight, which provides life-enhancing driving experiences for people of all ages and disabilities. We hope to raise much-needed funds to help the charity continue its work and expand its presence in the UK."
To achieve this record Mike Newman is teaming up with old pal Drew, Langdon and his wonderful 40ft F1 Silverline Powerboat pictured below.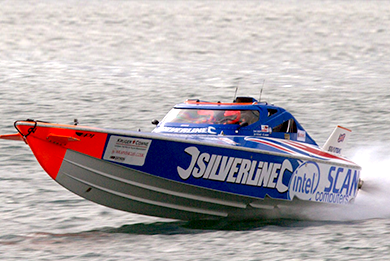 To find out more about the charity or the record attempt email info@speedofsight.org or call Office: 0161 714 4567 John Galloway 07971 161621 Chris Walker 07768 068563
Click here to view the record attempt gallery